I have always been a huge fan of corn soup.
I love the sweetness of fresh corn, and truthfully, all of the cream and butter in the recipe.
Whenever we have a choice between a cream-based soup and a broth-based soup, we usually choose the cream-based soup.
So I decided that I was going to makeover Creamy Corn Soup, healthier, without using any actual cream in the recipe. Instead I added vegetable broth and potato for that "creamy" feeling, warm spices like cumin and chili powder, and fun toppings like tomatoes and cilantro for some texture and flavor.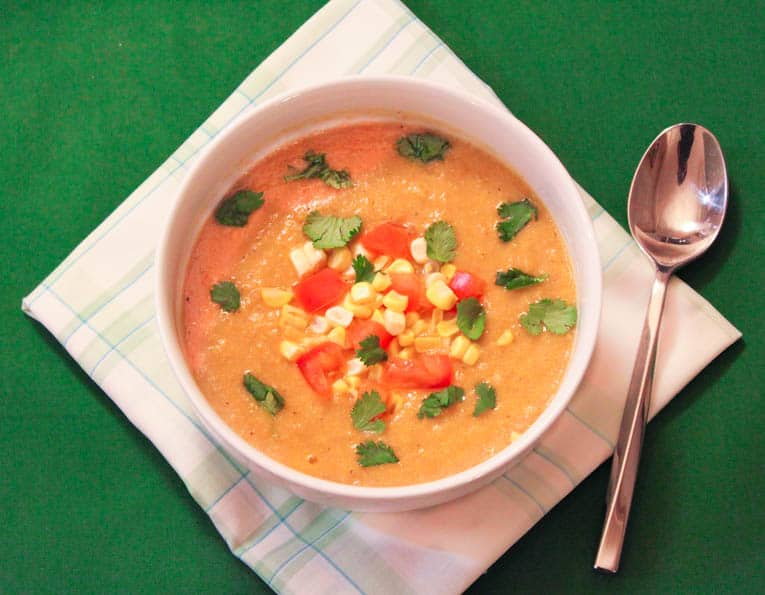 It was a huge success.
This soup is great for summer – when you can get wonderful fresh corn and tomatoes. But fresh frozen corn is still delicious. And with the warming spices, I'd say this soup transitions really nicely all year round.
You can add just about any toppings to this soup and it will still taste great. For a twist on this recipe, try adding avocado, guacamole, or crushed tortilla chips.
We ate so much of this soup we didn't have any leftovers!
And the best part is, it took less than 30 minutes to make from start to finish.
The Ingredients
Serves 3
5 ears fresh sweet corn
1 medium onion, chopped
1 tsp olive oil
1/2 teaspoon salt, plus more to taste
1/2 a medium yukon gold potato, chopped
2-3 cups vegetable stock (the more stock you add, the thinner your soup will be)
3 cloves garlic, minced
1 tsp cumin
1.5 tsp chili powder
A pinch of cayenne pepper
1/4 tsp black pepper
The Directions
Step 1:
Cut the onion, potato, and trim the corn kernels off the 5 ears of corn.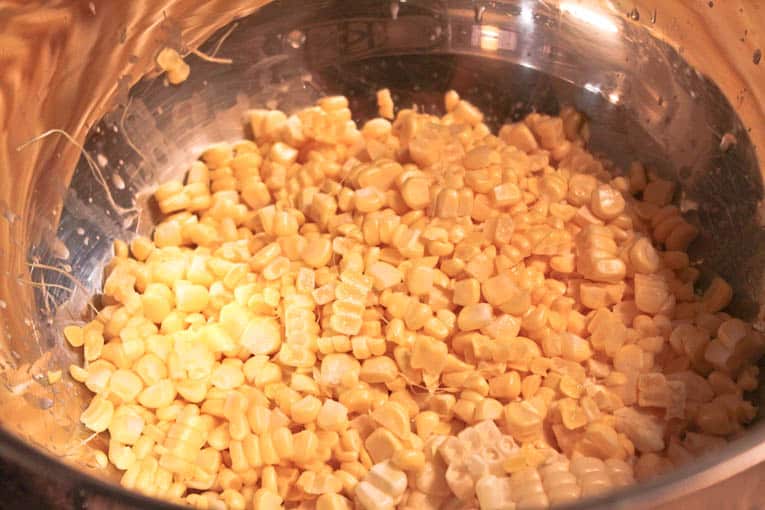 Step 2:
Heat the oil in a large pot over medium heat. Add the onion and garlic, saute for 5 minutes until the onion is translucent. Add the potato and broth, bring to a boil and cook until the potatoes are very soft – about 10 minutes. Then add the fresh corn and cook through for a couple minutes more.
Step 3:
Add a bit more vegetable broth if your soup mixture looks too thick. Add all of your spices (cumin, chili powder, cayenne, black pepper). Then puree with an immersion/hand blender, or with a regular blender/food processor. Your soup will go from this…
To this: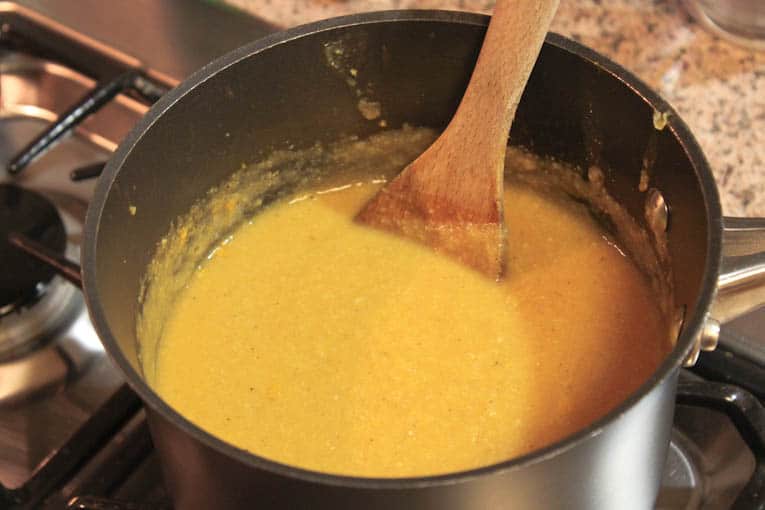 Step 4:
Top with a variety of toppings: cilantro, tomatoes, fresh corn, crushed corn chips, avocado, or anything else you can think of!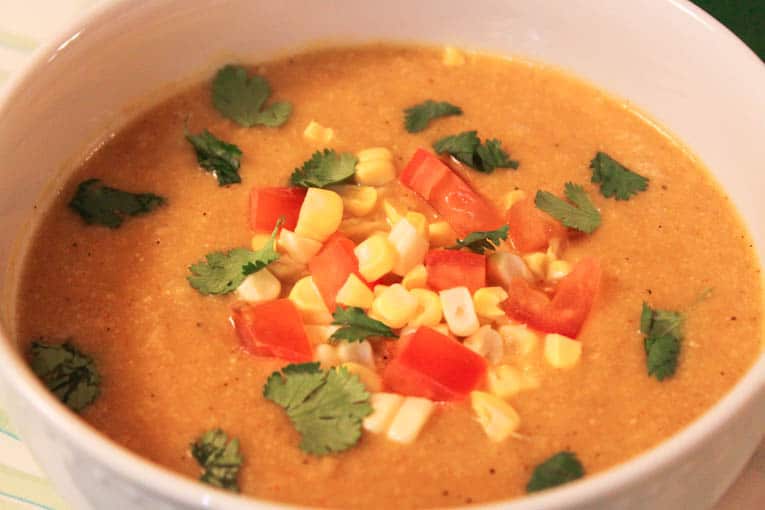 This soup is so rich and flavorful, it tastes like it was made with a ton of butter and cream, but you can enjoy it totally guilt free!
To Recap;