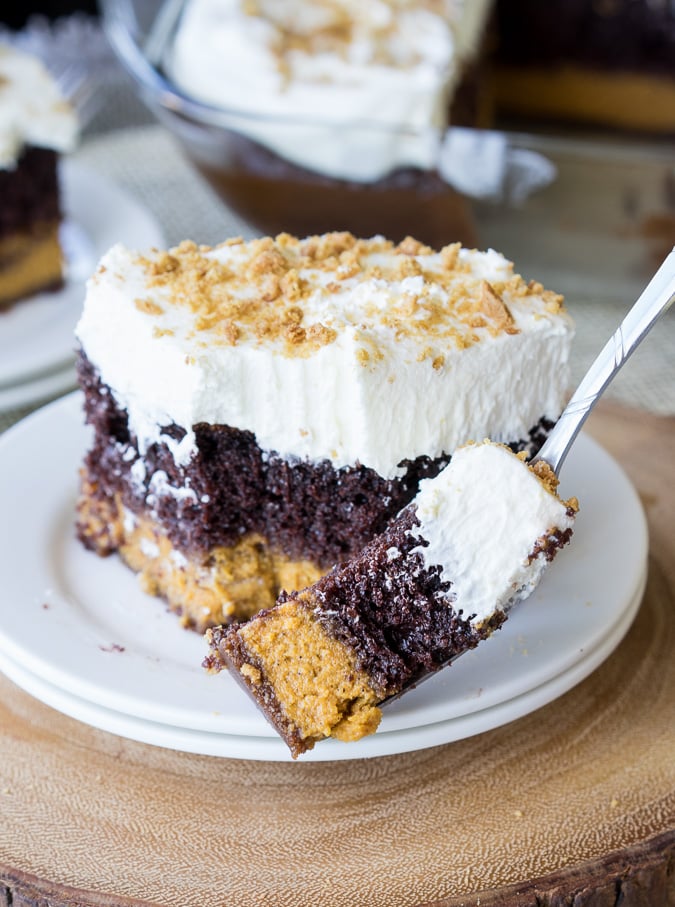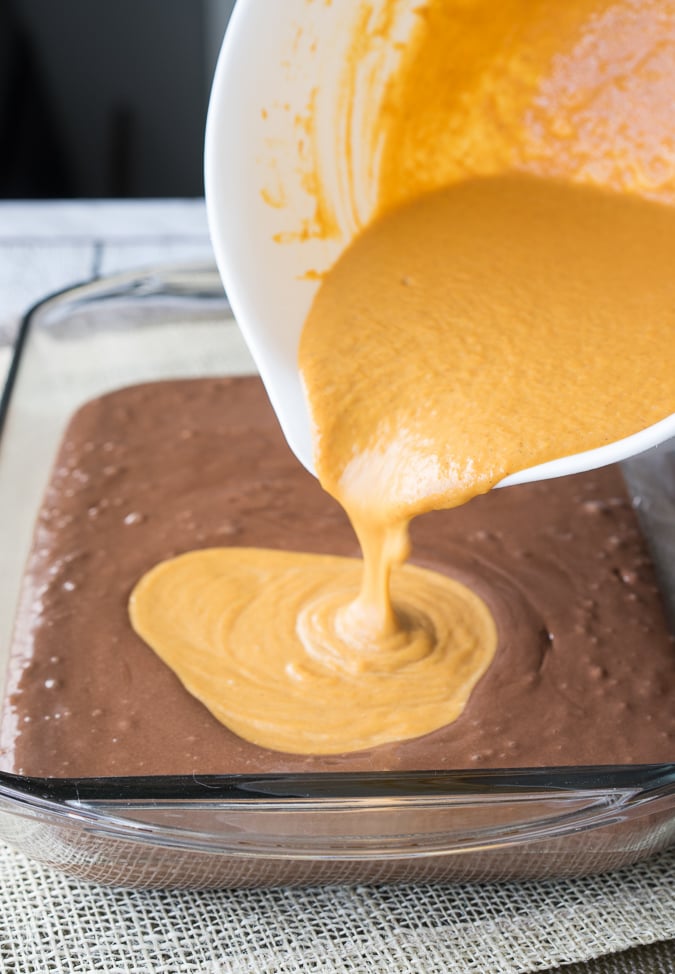 JUST last night, my very good friend, Theresa, served this cake to us for dessert. I was hooked. I knew I would share it in my weekly newsletter. It is amazing. ~Shelly
She told me this triple layer dessert is extremely easy to make, and comes out in perfect layers each time!
The bottom layer is a delightful pumpkin pie, the middle is a rich chocolate cake and then it's topped off with a vanilla pudding frosting that is to die for.
The secret to this magical cake is how you bake it.
First you pour in the chocolate cake batter and then the pumpkin pie batter over the top.
Since the pumpkin pie filling is heavier, it will sink to the bottom and the cake will rise to the top.
Now… I get asked a lot,
"Why don't you just put the pumpkin on the bottom to begin with?"
The pumpkin needs to bake longer in order to set, this little trick makes it so both the cake and pie come out perfect!
On the original pumpkin magic cake, the frosting had a hint of pumpkin pie spice, but you can opt to sprinkle some crushed gingersnap cookies on top.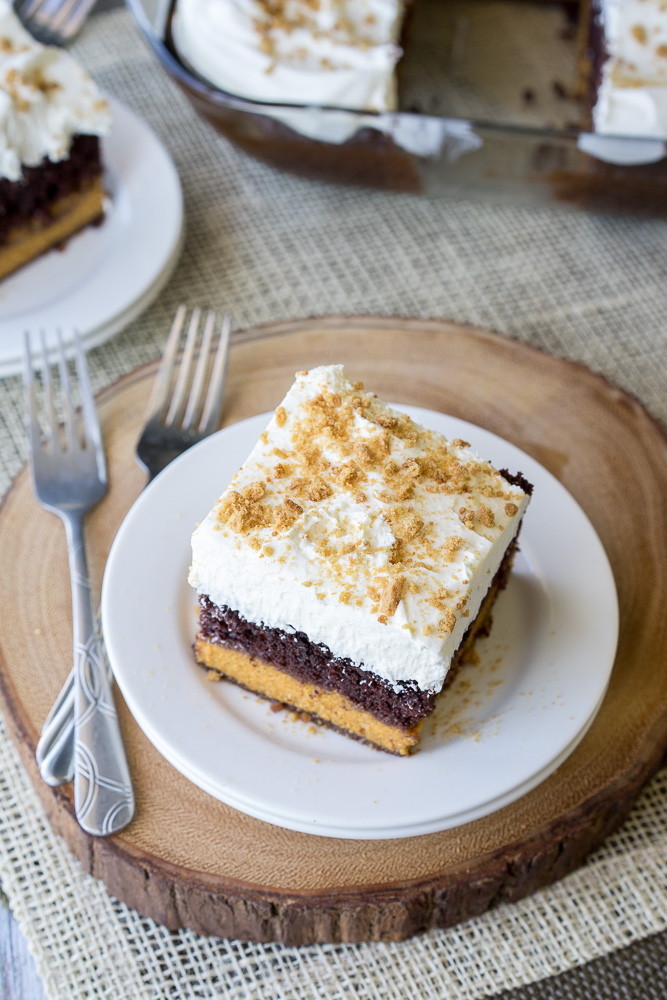 Once your family tastes this cake… they'll be hooked and asking for it all the time!
Grab a fork and dig in to this chocolate delight!
Ingredients
For the Cake:
1 box of devil's food cake mix PLUS ingredients needed to make (eggs, water, oil)
For the Pumpkin Pie:
1 (15oz) can Pumpkin Puree
1/2 cup evaporated milk
1/2 cup heavy cream
3 eggs
1 cup brown sugar
1 tsp pumpkin pie spice
For the Frosting
1 (4 serving size) box vanilla instant pudding mix
1 cup cold milk
8 oz Cool Whip, thawed
4 to 5 gingersnap cookies, crushed into crumbs
Instructions
Preheat oven to 350 degrees F.
Prepare box of cake mix according to package instructions, then pour into a lightly greased 9"x13" cake pan. DO NOT BAKE. Set aside.
In another bowl whisk together the ingredients for the Pumpkin Pie (pumpkin, evaporated milk, cream, eggs, brown sugar, and pumpkin pie spice), until smooth. Slowly pour the pumpkin pie mixture all over the cake mix.
Carefully place cake into the oven and bake for 50-60 minutes or until the center is no longer jiggly, and a toothpick inserted into cake mix comes out clean. Let cool to room temperature.

For the Frosting:

Place the vanilla pudding mix into a large bowl and pour in the cold milk. Whisk until combined and starting to thicken. Gently fold in the Cool Whip until it's completely combined. Spread on top of the cooled cake then sprinkle with the crushed gingersnap cookies.
You can serve now, or chill the cake, and serve when chilled. Either way tastes great. Enjoy!